Village News – September 2022
Q3 2022 came and went in a flash, September was over before we knew it and now we've yet again got a bunch of things to update you on! Here's your monthly dose of the Hillfarrance Village news.
---
---
What we've been up to
Hillfarrance Unconference
Last month, we hosted our first Unconference for our portfolio company Founders and their teams. The topic of the Unconference was embracing ESG principles and practices across all aspects of our businesses.
Our Unconference is an all-day event designed around solving a particular challenge with participation and idea exchanges from within our audience. We spent the day framing our individual and collective understanding of ESG, dispelling some myths and misinterpretations and coming up with some ideas and solutions on how we can more effectively manage and report on it in the future.
From e-bike programmes and hardware recycling systems to a pan-portfolio ESG committee and micro-internships for our rangatahi, we are excited to see this flourish into the next phase.
An extra special thank you to our volunteer speakers and those who came and contributed so generously to the day!
---
A little get together in Queenstown with Scannable
A huge thank you to Startup Queenstown Lakes for hosting our fireside chat last night with Rob Stirling and Gene Dower, Founders of Scannable. It was great to see so many new faces at the event and to have the chance to learn more about the vibrant startup sector down here in the most beautiful spot on the planet.
We were delighted to announce Scannable's new seed round, which we are honoured to lead once again and Hillfarrance's plans for creating an office in Queenstown.
Thank you to Monette and Olivia for organising this for us.
---
An invitation to Corporate New Zealand
For the size of our start-up market, we have a healthy amount of available capital for early-stage founders. What we need more of are viable customers. In particular, customers from the largest businesses and organisations in NZ.
Hillfarrance Venture Capital is inviting Corporate CEOs, CIO's and Procurement Heads to connect with us and learn more about the amazing products and services that will revolutionise your business. The best thing is that they are already on your doorstep.
This blog post covers off a few personal thoughts on how Corporates can effectively engage with startups.
If you are a decision maker at a corporate or Govt department and would like to come to a private dinner we are hosting on this topic in early November; please send us a note at pitches@hillfarrance.com. We will pick up the bill and keep it to under $100 per head 😉.
---
We've been playing round with A.I.
Throughout the past year or two, there's been proliferation of new A.I. generated art/image tools that have taken the market by storm such as DALL-E, Midjourney & Crayon. We decided to play around ourselves and have been experimenting with Midjourney and using our firm's values and location as prompts. Here's what came out:
Much more enjoyable than reading the Herald Online over the morning coffee!
Why not give it a go yourself? FYI – you will need a Discord account.
---
Portfolio company updates
Floating Rock Studio 🛟
Next generation VFX & Animation
Now over the jet-lag, the team are back from their teaching trip at Lucerne University of Applied Sciences and Arts in Switzerland! Lukas Niklaus and Stephanie Parker had a fun time teaching animation for creatures and character acting to the upcoming animators from LuMAA's 2022 group.
Exciting things on the way…
Off the back of their capital raise, the team at Floating Rock are deep into some top secret projects that'll blow your mind. Updates to follow…
---
Hashbane Interactive 🦖
Pre-historic action-adventure game
Hashbane is making some T-Rex-sized updates to their new breakout title, "Instinction"! Above, you'll appreciate their new trailer of the mighty Saurophaganax.
Hashbane has also been featured by Unreal Engine/Epic Games on their story of coming from architectural visualization to a Dino Crisis spiritual successor using Unreal Engine 5
---
Mobli 🚎
The platform that mobility is built on
In celebration of "Car free" day on 22nd September, the entire Mobli team did what they do best – making transport fun, accessible & easy!
Welcome Vishnu!
Vishnu is the newest addition to the Mobli team as their Customer Success Manager! Vishnu brings his vast experience in the micro-mobility space, having launched product operations in new cities for both Neuron Mobility & Lime. If there's anyone who knows a thing or two about Mobility-as-a-service and e-scooters, it's Vishnu.
Product feature update!
Mobli users can now self configure, test and deploy the following new features via Mobli Command at the click of a button:
Schedule creator for fixed, on demand & hybrid routes;
Manage and share Real-time and Static GTFS Feeds for Transit with your own internal systems or with 3rd parties; and
Configure and Sell Electronic Multi-Pass for Time-based, trip counts or both via users accounts or wallets through any channel you desire.
---
Scannable 🧗‍♂️
The world's first safety data supply chain
A video or picture tells a thousand words. Here, we see Scannable's awesome product digitising a piece of safety equipment using NFC tags. This unique serial and SKU is added seamlessly to an equipment owners kit list for inspection, compliance & equipment management.
There are a lot of acronyms and some confusing technology involved with making equipment used for working at height phone-scannable.
We asked Scannable Co-Founder Rob Stirling to shed some light on RFID and NFC technology, his experiences with launching the world's first RFID carabiner for DMM, and why Scannable is using NFC technology to help rope access technicians, arborists, riggers, rescuers, and others in the height safety world.
---
Bolster ⛓
Bolster is the Shopify for Enterprise data and allows operators to find the data they want, when they want, on any device they want.
The team at Bolster have made a sneak peak video on what they've been working. In this video, Co-founder & CTO, Steffen runs through how they're using their patented SMAQ methodology to provide early warnings for supply chain disruption, how that effects an organisations/manufacturers working capital and finally, how organisations can more efficiently track their ESG metrics.
---
Yabble 🤖
Revolutionizing the world of insights with game-changing AI products
Yabble recently showcased a case study with one of their customers, SenateSHJ, who are using their awesome "Hey Yabble" AI-powered product.
SenateSHJ is one of Australasia's leading communications consultancies works with a wide range of clients from government and healthcare to media and marketing — each of whom has unique and complex insights needs. The team needed a way to minimize manual coding time in their research program so they could spend those hours driving success for their clients and the SenateSHJ business.
By letting Yabble do the heavy lifting on the thousands of open-ended responses they receive on any given survey, the SenateSHJ team has virtually eliminated manual coding — saving considerable costs and up to eight hours on every project. Now, they have more time to spend actioning insights rather than processing.
---
Space Rock Games 🪨
The concept art coming out of Space Rock Games' Simone is killer! Above is a concept art timeline of how he concepted the ruins, the only remains of an ancient civilization long gone.
Here's also one of the mockups of one their dragons! I've dubbed it the name "Barney", but I'm sure the team will think of a better name than that.
---
Compostic 🌱
After dominating the compostable food wrap and bags vertical in Australiasia, it is exciting to see Compostic now on the shelves of the biggest grocers in the US 😊🇺🇸. This now includes Whole Foods Market, Thrive Market, Food City / KVAT Foods Inc. and one of Rob Vickery's old favourites, Gelson's Markets.
Great work Jon Reed and the rest of the Compostic Team. Here's to growing market share and changing US consumers' minds regarding using plastic to store food. A great example of Kiwi's hustling in the biggest markets.
FYI – you can expect to hear a lot more about Compostic in the coming weeks. 😉🌱🌏
---
Partly ⚙️
Connecting the worlds parts
Recently, Partly had the privilege of hosting Dylan Field of Figma at Partly HQ in Christchurch. Along with spending time hanging out with the team, they had a fireside chat where Dylan shared some of his insights and learnings from his Figma journey. We took away two critical factors that helped lead to Figma's success.
It was inspiring to hear and learn from Dylan, and congrats to him & the Figma team on their recent acquisition by Adobe for $20 billion!
Along with this, it's awesome to see Partly being named as one of Forbes Asia's top 100 startups to watch. We're certainly watching with a keen eye 👀
---
Segna 🦾
The best way to let users import CSV files
A great week for the team at Segna as they have been chosen by TechCrunch as a #StartupBattlefield company, and will be one of only 200 startups exhibiting at #Disrupt2022!
The team has also released another product update. They're excited to share that they've:
Made their no-code data importer shareable, meaning you can now Share your data importer around by copying a link generated when you create a pipeline. No need to write any code — quickly create a data importing workflow that you can share with your users, or embed in your app, to get data in your system ASAP;
Updated their existing website with a new look; and
Added more places where you can add a Python script to handle those weird edge cases for data processing.
---
Portfolio company job openings
Yabble is on the hunt for:
Auckland, New Zealand
---
Mobli is on the hunt for:
Auckland, New Zealand
---
Partly is on the hunt for:
Christchurch, New Zealand
New Zealand
United Kingdom
---
Auckland-based or Remote-based
---
Wellington-based or Remote-based
Segna is on the hunt for:
Auckland-based or Remote-based
---
Resources
Our take on pro-rata rights
Many founders experience pro-rata rights provisions too late. They often get tangled up in a web of administration, messy cap tables, and disgruntled investors (both new and existing), all of which occur when you have the least amount of time – when you are closing a round.
This piece explores pro-rata rights, why your investors want them and how it affects you and your start-up. Drawing from our years of experience in start-up investing, we have also shared a few hints and tips about how you can get on top of it.
Thanks to Phil Taylor of Tompkins Wake for his input and views, several of which went into this post.
---
Read of the month
The power law is arguably the most important law in venture capital and how returns are made in this business. In essence, the majority of returns come from a very select few companies. This is both a great read for emerging managers, but also startups to understand fundraising from a VC dynamic.
---
Pic of the month
In recent news, Elon Musk has launched a perfume line that smells like "Burnt Hair" to help fund he acquisition of Twitter. It has been two days and he's already sold $1m worth of perfume. Although completely sattire, it's bewildering to see the influence of this individual to the point where a single tweet can move markets.
---
Startup News & Trends
Good revenue vs. bad revenue
When you first startup (pun-intended), any revenue is good revenue. However, as you grow or you experience rocky periods, understanding deeply where your revenue is coming from is super important. This thread goes through good and bad revenue, how it is affected by unit economics and how to optimise your revenue.
---
Software valuation multiples
Here's a good resource on software valuations and how these are defined with the current times of uncertain market conditions and drawbacks. In summary:
There's a mix in sentiment to how software multiples will end up in Q4 2022.
Investors define high-quality companies now as high profit margin and high growss revenue retention businesses.
Deal volume and M&A remain strong in both private and public markets.
---
A good 2×2 competition matrix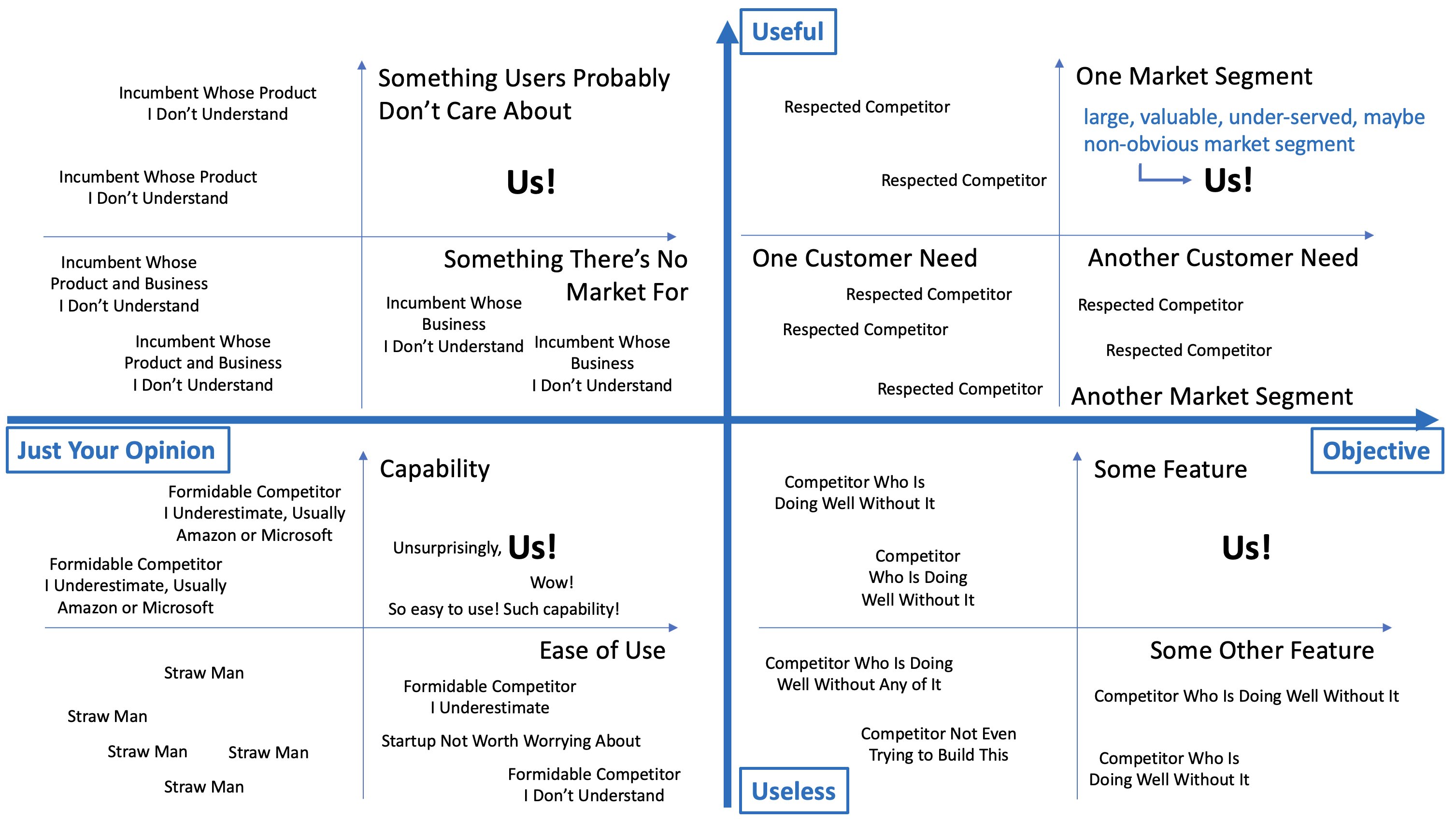 Here's a great example of how to do a 2×2 competitive breakdown. Competition slides in pitchdecks are few and far between. Some are feature parity's, some miss the point of what really is "competitive advantage" and some battle of strength of IP. However, the main point is to illustrate the gap in the market that you're filling with a truly unique and better solution.
---
The need for value-add investors
Now more than ever is the time to trim the fat. "Value-add" has been a commonly thrown around term both by VCs & founders during the fundraising process. What does this truly mean and in what context? This resource is one that has bee published recently that I find myself going back to reiterate why we do wat we do here at Hillfarrance. We're a service to founders.
---
Notable start-up exits
---
Funding
Global seed funding
Aotearoa funding
Want to get in touch about your startup? Reach out to us at pitches@hillfarrance.com